You will often hear people claim that their voyage onbaord the Cunard ship "QE2" (below) was one onboard the world's largest 'Ocean Liner'. This is correct, as the "QE2"(recently replaced by the "Queen Mary 2") was the world's largest Ocean Liner.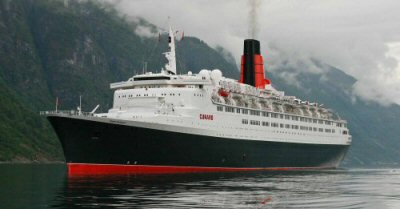 It was, however, nowhere near as big as, for instance, the "Oasis of the Seas" (below) or similar cruise ships; so what was the distinction?
The "Oasis of the Seas" and other such vessels are categorised as 'Cruise Ships'; large vessels used for the accommodation and entertainment of guests during a sea voyage for pleasure. An 'Ocean Liner', on the other hand, is a large ship which transports people from one designated port to another.

If you like, an 'Ocean Liner' is a form of sea transport which involves a luxury holiday, whereas a 'Cruise Ship' is a form of luxury holiday which involves sea transport.


The "Oasis of the Seas" goes on various different 'cruises' throughout the year, with different itineraries, starting and ending in the same port (usually Ft. Lauderdale, USA). The "QE2" on the other hand transported people across the Atlantic, between the ports of Southampton and New York and fed and entertained them on the way.